Orangutans are the most arboreal of the great apes and spend most of their time in trees. Their hair is typically reddish-brown, instead of the brown or black hair typical of chimpanzees and gorillas. Males and females differ in size and appearance. Dominant adult males have distinctive cheek pads and produce long calls that attract females and intimidate rivals. Younger males do not have these characteristics and resemble adult females. Orangutans are the most solitary of the great apes, with social bonds occurring primarily between mothers and their dependent offspring, who stay together for the first two years. Fruit is the most important component of an

orangutan

's diet; however, the apes will also eat vegetation, bark, honey, insects and even bird eggs. They can live over 30 years in both the wild and captivity.

Orangutans are among the most intelligent primates; they use a variety of sophisticated tools and construct elaborate sleeping nests each night from branches and foliage. The apes have been extensively studied for their learning abilities. There may even be distinctive cultures within populations.

https://en.wikipedia.org/wiki/

Orangutan
Lots of behavioral similarities with neanderthals. Population density is typically 4.5 per square kilometer. Sounds just about perfect to me!
Social life

Orangutans live a more solitary lifestyle than the other great apes. Most social bonds occur between adult females and their dependent and weaned offspring. Adult males and independent adolescents of both sexes tend to live alone.[34]

Orangutan

societies are made up of resident and transient individuals of both sexes. Resident females live with their offspring in defined home ranges that overlap with those of other adult females, which may be their immediate relatives. One to several resident female home ranges are encompassed within the home range of a resident male, who is their main mating partner.[35]

Transient males and females move widely.[34] Orangutans usually travel alone, but they may travel in small groups in their subadult years. However, this behaviour ends at adulthood. The social structure of the

orangutan

can be best described as solitary but social. Interactions between adult females range from friendly to avoidance to antagonistic. Resident males may have overlapping ranges and interactions between them tend to be hostile.[35]

During dispersal, females tend to settle in home ranges that overlap with their mothers. However, they do not seem to have any special social bonds with them.[36] Males disperse much farther from their mothers and enter into a transient phase. This phase lasts until a male can challenge and displace a dominant, resident male from his home range.[37] Adult males dominate sub-adult males.[38]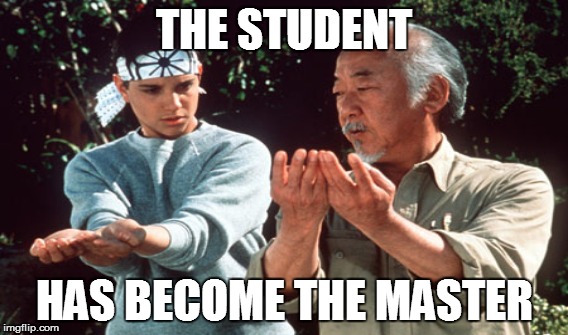 Both resident and transient orangutans aggregate on large fruiting trees to feed. The fruits tend to be abundant, so competition is low and individuals may engage in social interactions.[35] Orangutans will also form travelling groups with members moving between different food sources.[37] These groups tend to be made of only a few individuals. They also tend to be consortships between an adult male and female.[35]

...

Nesting

Orangutans build nests specialized for both day or night use. These are carefully constructed; young orangutans learn from observing their mother's nest-building behaviour. In fact, nest-building is a leading cause in young orangutans leaving their mother for the first time. From six months of age onwards, orangutans practice nest-building and gain proficiency by the time they are three years old.[41]

https://www.youtube.com/watch?v=P73REgj-3UE
The way of the nobilid, what did I tell you :mrgreen:.
Reproduction and parenting

Males mature at around 15 years of age, by which time they have fully descended testicles and can reproduce. However, they exhibit arrested development by not developing the distinctive cheek pads, pronounced throat pouches, long fur, or long-calls until they are between 15 and 20 years old.[35] The development of these characteristics depends largely on the absence of a resident male.[42]

I believe male aspies also undergo something very similar to this in their sexual development.
Males without them are known as unflanged males in contrast to the more developed flanged males. The transformation from unflanged to flanged can occur very quickly. Unflanged and flanged males have two different mating strategies. Flanged males attract oestrous females with their characteristic long calls.[39] Those calls may also suppress development in younger males.[37] Unflanged males wander widely in search of oestrous females and upon finding one, will force copulation on her.
Cannibal fag RAEP :lol:. Could a similar sexual development explain archaic thal behavior?
While both strategies are successful,[39] females prefer to mate with flanged males and seek their company for protection against unflanged males.[38] Resident males may form consortships with females that can last days, weeks or months after copulation.[39]

Female orangutans experience their first ovulatory cycle around 5.8–11.1 years. These occur earlier in females with more body fat.[35] Like other great apes, female orangutans enter a period of infertility during adolescence which may last for 1–4 years.[35] Female orangutans also have a 22– to 30-day menstrual cycle. Gestation lasts for 9 months, with females giving birth to their first offspring between the ages of 14 and 15 years.[35]

Female orangutans have eight-year intervals between births, the longest interbirth intervals among the great apes.[35] Unlike many other primates, male orangutans do not seem to practice infanticide. This may be because they cannot ensure they will sire a female's next offspring because she does not immediately begin ovulating again after her infant dies.[43]

Male orangutans play almost no role in raising the young. Females do most of the caring and socializing of the young. A female often has an older offspring with her to help in socializing the infant.[44] Infant orangutans are completely dependent on their mothers for the first two years of their lives. The mother will carry the infant during travelling, as well as feed it and sleep with it in the same night nest.[35] For the first four months, the infant is carried on its belly and never relieves physical contact. In the following months, the time an infant spends with its mother decreases.[44]

When an

orangutan

reaches the age of two, its climbing skills improve and it will travel through the canopy holding hands with other orangutans, a behaviour known as "buddy travel".[44] Orangutans are juveniles from about two to five years of age and will start to temporarily move away from their mothers.[35] Juveniles are usually weaned at about four years of age. Adolescent orangutans will socialize with their peers while still having contact with their mothers.[35] Typically, orangutans live over 30 years in both the wild and captivity.[12]
Add 100 points or so of IQ to this baseline emotionality and you get a very appealing picture.
Intelligence

Orangutans are among the most intelligent primates. Experiments suggest they can figure out some invisible displacement problems with a representational strategy.[45] In addition, Zoo Atlanta has a touch-screen computer where their two Sumatran orangutans play games. Scientists hope the data they collect will help researchers learn about socialising patterns, such as whether the apes learn behaviours through trial and error or by mimicry, and point to new conservation strategies.[46]

A 2008 study of two orangutans at the Leipzig Zoo showed orangutans can use "calculated reciprocity", which involves weighing the costs and benefits of gift exchanges and keeping track of these over time. Orangutans are the first nonhuman species documented to do so.[47] Orangutans are very technically adept nest builders, making a new nest each evening in only in 5 to 6 minutes and choosing branches which they know can support their body weight.[48]

...

Possible linguistic capabilities

A study of

orangutan

symbolic capability was conducted from 1973 to 1975 by zoologist Gary L. Shapiro with Aazk, a juvenile female

orangutan

at the Fresno City Zoo (now Chaffee Zoo) in Fresno, California. The study employed the techniques of psychologist David Premack, who used plastic tokens to teach linguistic skills to the chimpanzee, Sarah.[58] Shapiro continued to examine the linguistic and learning abilities of ex-captive orangutans in Tanjung Puting National Park, in Indonesian Borneo, between 1978 and 1980.[59]

During that time, Shapiro instructed ex-captive orangutans in the acquisition and use of signs following the techniques of psychologists R. Allen Gardner and Beatrix Gardner, who taught the chimpanzee, Washoe, in the late 1960s. In the only signing study ever conducted in a great ape's natural environment, Shapiro home-reared Princess, a juvenile female, which learned nearly 40 signs (according to the criteria of sign acquisition used by psychologist Francine Patterson with Koko, the gorilla) and trained Rinnie, a free-ranging adult female

orangutan

, which learned nearly 30 signs over a two-year period.[59] For his dissertation study, Shapiro examined the factors influencing sign learning by four juvenile orangutans over a 15-month period.[60]
That's probably enough copypasta. You can always click through and read more, and there is some Google-able stuff re: "orangutans introverted".